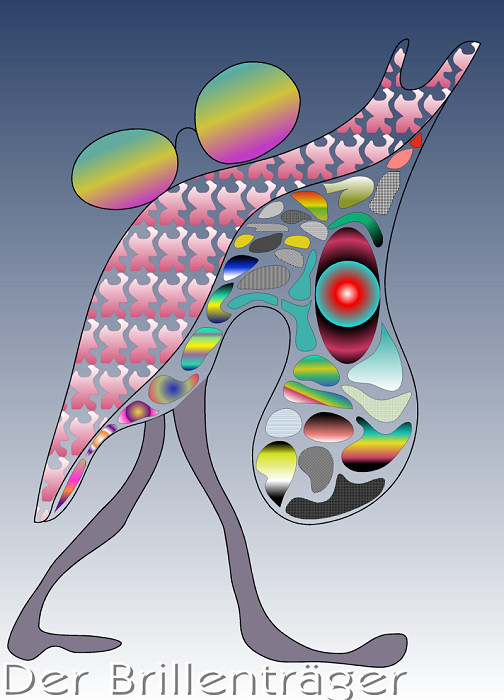 "Der Brillenträger" (The Wearer of Spectacles)
"Der Brillenträger" (The wearer of spectacles) was created in 1998 as a vector drawing using Freehand(Macromedia).  
Print:
 Digital Fine Art on Somerset Velvet  
Size:
 Paper: 76x56 cm, Picture: 50x36 cm 
Copies:
 25, numbered and signed, and 5 artist's copies (I-V) 
Price:
 475.‒ Euros 
Artist:
 Björn Dämpfling
"The wearer of spectacles" was my first vector image and though it looks like the perfectly planned execution of an idea, it came about after only a few minutes as the result of the completely spontaneous use of this program I had never used before. After a few days of working out the patterns of the fillings I had this hunchbacked creature, carrying a pair of glasses. This originally just visual fact became the basis for finding that word play "Der Brillenträger" translated literally: "The carrier of glasses". Finally I got the idea, to make this an integral part of the composition. And this time it is not hard to understand that the technical execution was easy, different from 99,9% of those ideas "I" have sometimes, against which my art producing brain part always offers me something more convincing.