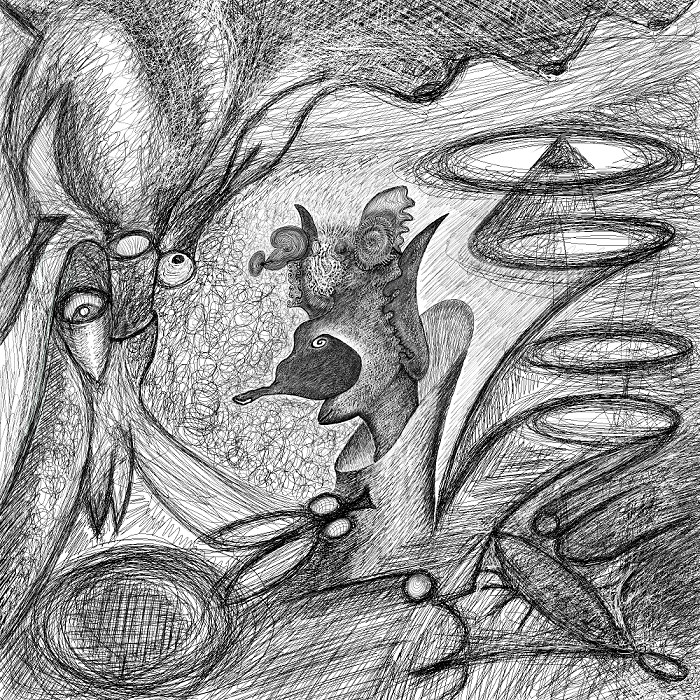 "Meine Schöne" (My Beauty)
"Meine Schöne"(My Beauty) was drawn in June 1999 using only "Painter" Metacreations).  
Print:
 Piezo-Print on Somerset Velvet 
Size:
 Paper: 40x40 cm, Picture: 30x30 cm 
Copies:
 95, numbered and signed, and 5 artist's copies (I-V) 
Price:
 400.‒ Euros 
Artist:
 Björn Dämpfling
"Meine Schöne" (My Beauty) is one of the very few of my images owing its existence to an input from the art world. It was the works of Rolf Münzner, a master in a special form of lithography with extremely fine lines, which stimulated me to work for once in black and white only, though in terms of our themes similarities are scarce. Concerning look and feel I am not that sure. Though "My Beauty" can easily be mistaken for a dry-point etching, it is a genuinely digital piece, because it combines working black on white all around the center with working vice versa in the center. And there are parts in which both ways have been mixed, something that's really digital art production technique at its best. As I see it, such subtle and unspectacular possibilities are at the core of digital capabilities in producing art, worthy to be looked at closer.